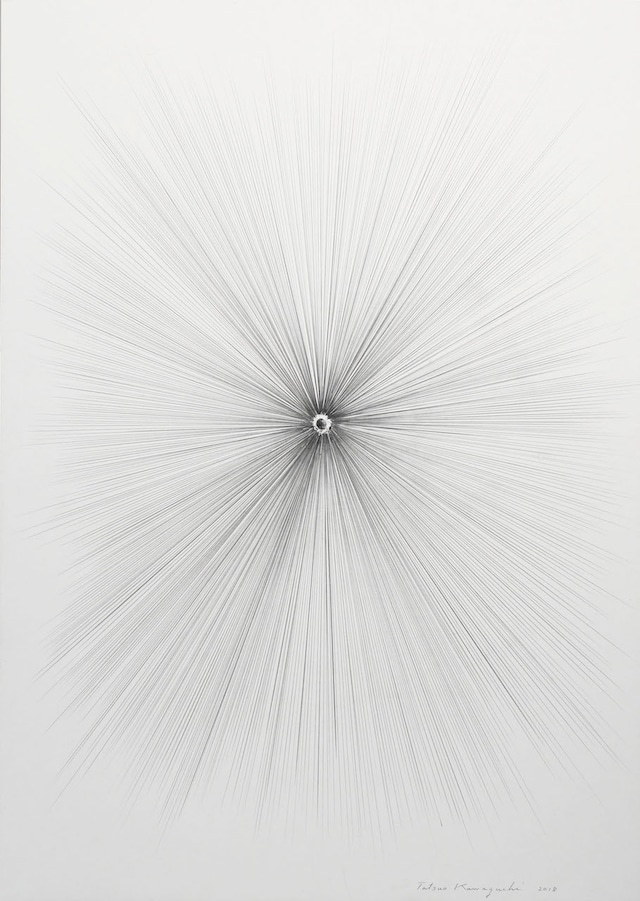 "When a Seed Becomes Art" / 『種子が芸術になるとき』
[カタログ]
仕様:A5変形サイズ、40ページ、フルカラー
掲載作品:河口龍夫『種子が芸術になるとき』展より33点
文:河口龍夫、鞍田崇
翻訳:河西香奈
撮影:SNOW Contemporary
編集:窪田研二、石水美冬、北村大宰、皆川真美子
デザイン:峯石景子
発行:SNOW Contemporary

*展覧会展示風景は、カタログに掲載されておりません。/ The exhibition view is not posted in this catalogue.


河口龍夫は1960年代から精力的に作品を発表し続け、現在もなお最前線で活躍し国内外より高い評価をうける、日本を代表する現代作家の1人です。
これまで一貫して、物と物、あるいは物と人などの相互の関係性をテーマとしてきました。その関係性には、時間や生命、あるいはエネルギーなど無限の可能性を秘めた概念が横たわり、目に見る事が出来ません。河口はその目に見えない関係そのものを作品を通して実在させることで、可視化が困難な概念を鮮やかに提示します。「芸術は精神の冒険」であると河口は言いますが、彼の作品世界は常に観る者の五感を刺激し、新たな想像の世界へと我々をいざないます。
河口龍夫が「関係―種子」シリーズを最初に発表したのは1982年。当初、河口は植物の種子を銅で覆う作品を制作していました。しかし1986年のチェルノブイリ原発事故後、銅に代わり放射線を遮る鉛を用いるようになりました。種子を放射線から保護し永続的に残したいという作家の意思が働いたのかもしれません。チェルノブイリ原発事故と同年に河口は、「関係?種子」(1986)において170種以上の種を鉛で封印しました。その後、「関係―種子・農園」(1987)、「種子の食卓」(1988)、「関係―種子・櫛」(1988)、「関係―種子・鉛の畑」(1989)、「関係―本」(1990)、「関係―種子・花のために」(1990)、「関係―鉛の温室」(1990)などの作品を展開し、種子と最初に出会った場でもある食卓や書籍、櫛、植木鉢、ついには種子を収める温室まであらゆるものを種子と共に鉛で封印しています。

*掲載作品に関しては下記までお問い合わせください。
http://snowcontemporary.com/contact.html

[Catalogue]
40 pages, 18 x 12.9 cm, color.
33 Works by Tatsuo Kawaguchi from "When a Seed Becomes Art" exhibition in 2020.
Essays by Tatsuo Kawaguchi and Takashi Kurata
Translated by Kana Kawanishi
Photo by SNOW Contemporary
Edited by Kenji Kubota, Mifuyu Ishimizu, Daisaku Kitamura and Mamiko Minagawa
Designed by Keiko Mineishi
Published by SNOW Contemporary

Tatsuo Kawaguchi has been one of Japan's leading artists in our time, who has made and exhibited his works energetically since 1960s, worked at the cutting edge until now and received appreciations from home and aboard.
Kawaguchi has constantly explored a relation between objects and objects, or objects and human beings. This relation is where concepts of time, lives, energy and other things which have limitless possibilities lie, which are invisible. By making these relations in themselves exist in his works, Kawaguchi shows vividly these concepts which are difficult to visualize. Kawaguchi says "art is an adventure of spirit" and His works inspire your senses and invite you to the new world of imagination.

*for more information:
http://snowcontemporary.com/artist/kawaguchi_tatsuo.html

*Please feel free to ask us about the artworks shown in the catalogue.
http://snowcontemporary.com/en/contact.html


Please do not proceed with the payment if you live outside of the EMS transportable area (https://www.post.japanpost.jp/int/ems/country/all_en.html).
Please let us know the address to be shipped and contact "snow@officekubota.com" first for the estimate of the shipment fee.

Import duties and taxes may be applied upon customs clearance into your country.
In such cases, the recipient of the item will be responsible for those fees. Please pay these costs directly to the delivery agents or the customs office upon delivery. Additionally, taxes and duties differ by country. Please contact the customs office in your country for details.
Add to Like via app
Shipping method / fee

Payment method